SODIUM ACID PYRO PHOSPHATE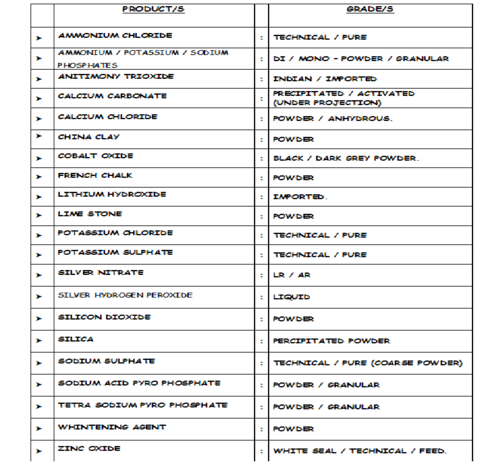 SODIUM ACID PYRO PHOSPHATE
Product Description
CHEMICALS USED IN GLASS AND CERAMIC INDUSTRY.
Below mentioned are the application areas where our additives and chemicals can be used successfully.
APPLICATION AREAS:
TOUGHENED GLASS.
LAMINATED SAFETY WIND SHIELD GLASS.
INSULATED / DOUBLE GLAZED GLASS.
MIRROR / MIRROR GLASSING.
GLASS POLISHING / BEVELLING / STAINED PROCESS.
FLAT GLASS ( SHEET / FLOAT )
GLASS BLOCKS.
TINTED FLOAT GLASS.
GLASS TUMBLER / BOTTLES / TUBES & OTHER TYPE OF GLASS ACCESSORIES.
CERAMIC INDUSTRIES.
MIRROR SILVER COATING & MFG.
POLISHING TILES / MIRROR / GLASS.
Please contact us with a confidence of quality products with required grades / specifications, quantity needs to cater you almost satisfactory feedback with competitive offer.
<<ADVANTAGES>>
As abrasive & filler.
Better color, high absorption capacity & rapid saturation.
Improve strength & impart stiffness.
Extender to control surface strength & cohensiveness.
Optimizing of filler loading.
Better finishing, shinning & improve stability.
Improved brightness & good opacity.
As a stabilizer which improves mechanical property & appearance. Its good level of opacity with very low level of undesirable & commitments.