CITRIC ACID MONO HYDRATE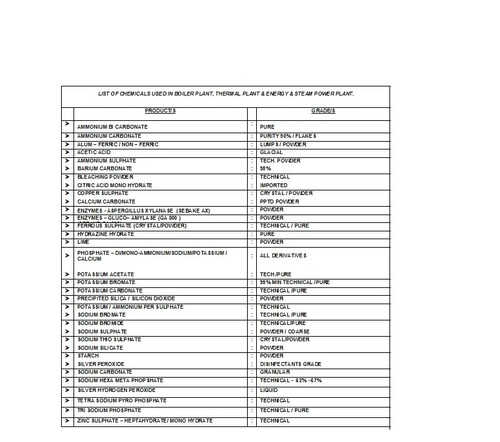 CITRIC ACID MONO HYDRATE
Product Description
CHEMICALS BOILER PLANT, THERMAL PLANT, ENERGY & STEAM POWER PLANT, WATER TREATMENT
In any Industry, Boiler are an essential part & best operation Practice provides Energy saving and Reduction in Cost. Generally Chemicals are used in FEED WATER TREATMENT, BOILER WATER TREATMENT, STEAM & CONDON STATE TREATMENT. Since POOR WATER gives POOR STEAM, Chemical Water Treatment is required to Improve Efficiency & Productivity. Please find herewith Updated List of Chemicals, mainly used for the treatment in the above mentioned Plant. We are sure that this information will put LIGHT on the RIGHT PRODUCT required by you.
REASONS FOR TREATMENT:
CONTAMINATION OF STEAM DUE TO FOAMING AND BUBBLES.
UNTREATED BOILER WATER CAUSES SCALE,
INTEND GRANULAR CORRISION AND STEAM CONTAMINATION.
THERMAL DAMAGE & IRREVESIBLE DAMAGE.
EXCESS BOILER BLOW DOWN.
INGRESS OF IMPURITIES.
POOR WATER AND POOR STEAM
ADVANTAGES:
ENERGY SAVING.
IMPROVEMENT IN STEAM GENERATION.
REDUCTION IN OPERATIVE COST
ENHANCES SAFETY
PROTECTION AGAINST DAMAGE
EFFECTIVE WATER TREATMENT IS COST SAVER