AZODICARBONAMIDE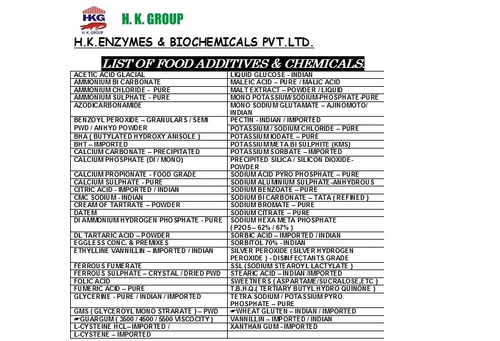 AZODICARBONAMIDE
Product Description
ADVANTAGES:
VOLUME INCREASES
PROMOTES DEXTROSE PRODUCTION, SPEEDS UP FERMENTATION.
INCREASES FERMENTATION TOLERANCE.
INCREASE SOFTNESS, DOUGH & GLUTEN STRENGTHING.
INCREASES FLOUR STABILITY, FLOUR CORRECTION.
EMULSIFIER REPLACEMENT / DATEM REPLACEMENT.
STALING REDUCTION, EXTRA SOFTNESS IN SWEET & BREAD DOUGH.
IMPROVE HIGH FIBRE & FIBRE ENRICHED BAKERY PRODUCTS.
SPECIAL CAKE CONCENTRATE PROTEASE TO REDUCE GLUTEN STRENGTH, IF REQUIRED.
IMPROVEMENT IN CRUST COLOR.
INCREASES OVEN SPRING RESULTING IN GREATER VOLUME.
INCREASES CRISPINESS IN BISCUIT PRODUCTS.
IMPROVING YEAST FERMENTATION, INCREASES LOAF VOLUME.
IMPROVE THE WHITENESS, PRODUCE FINE TEXTURE AND NET WITH GOOD OVEN SPRINGS.
INCREASES SHELF LIFE, STRUCTURE & STRENGTH OF BAKERY PRODUCTS
IMPROVES TASTE, TEXTURE, MACHINING OF DOUGH.