BAKERY ENZYMES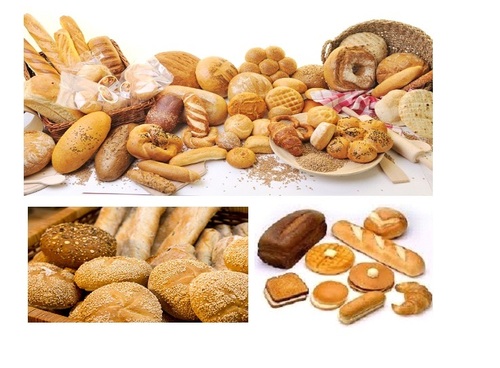 BAKERY ENZYMES
Product Description
USE OF ENZYMES IN BAKERY TO IMPROVE QUALITY OF
v BREAD ( PAV / SWEET BREAD / BUNS)
v CAKES (SOFT CAKE / PASTERIES / BUTTER CAKE)
v BISCUITS (CREAM / FLAVOURED, CRISPY / KHARI / SALTY TYPE BISCUITS)
v PARATHA / CHAPATI / NAN / ROTI ETC.
A D V A N T A G E S
VOLUME INCREASES
PROMOTES DEXTROSE PRODUCTION, SPEEDS UP FERMENTATION.
INCREASES FERMENTATION TOLERANCE.
INCREASE SOFTNESS, DOUGH & GLUTEN STRENGTHING.
INCREASES FLOUR STABILITY, FLOUR CORRECTION.
EMULSIFIER REPLACEMENT / DATEM REPLACEMENT.
STALING REDUCTION, EXTRA SOFTNESS IN SWEET & BREAD DOUGH.
IMPROVE HIGH FIBRE & FIBRE ENRICHED BAKERY PRODUCTS.
SPECIAL CAKE CONCENTRATE PROTEASE TO REDUCE GLUTEN STRENGH, IF REQUIRED.
IMPROVEMENT IN CRUST COLOUR.
INCREASES OVEN SPRING RESULTING IN GREATER VOLUME.
INCREASES CRISPINESS IN BISCUIT PRODUCTS.
IMPROVING YEAST FERMENTATION, INCREASES LOAF VOLUME.
IMPROVE THE WHITENESS, PRODUCE FINE TEXTURE AND NET WITH GOOD OVEN SPRINGS.
INCREASES SHELF LIFE, STRUCTURE & STRENGTH OF BAKERY PRODUCTS
IMPROVES TASTE, TEXTURE, MACHINING OF DOUGH.
VITAMIN PREMIX & NUTRITION PRODUCTS FOR FORTIFIFED ATTA & CHEMICAL PRODUCT/S FOR FORTIFICATION ALSO AVAILABLE.
IMPORTANT NOTES: FOR OPERATING CONDITIONS. PHYSICAL & CHEMICAL PROPERTIES, STORAGE & HANDLING PRECAUTIONS & PACKING DETAILS. REFER PRODUCT LITRATURE / TECHNICAL DATA SHEET PROVIDED BY PRINCIPAL COMPANY. PRODUCT SALE & OFFERED IN ORIGINAL CONDITION OF MFG. / IMPORTER / SUPPLIERS.
Contact Us
C-409, Upvan Tower CHSL, Upper Govind Nagar, Mumbai, Maharashtra, 400097, India
Phone :+918037303660